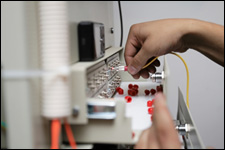 Data Center Exchange:
Equipment

We have new and refurbished data center equipment available immediately at attractive pricing. For more information or to place an order, contact Node Com, Inc.

Do you have surplus data center equipment you need to sell? We can help you market your equipment to a premium audience of telecom/Internet facility professionals. Contact us to learn more.

Prospective buyers and sellers should examine the Disclaimer and Terms of Service for this web site.