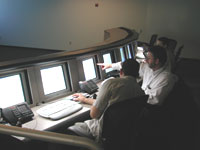 Data Center Exchange:
Acquisitions & Sales

In today's rapidly-consolidating data center business, NodeCom can bring together buyers and sellers to facilitate deals. In 2003 we assisted clients like MCI and AboveNet in the sale of more than $110 million worth of data center properties.

Through our extensive relationships in the telecom industry and our network of industry web sites including Data Center Exchange, the Data Center Equipment Marketplace and CarrierHotels.com, NodeCom offers extraordinary resources to our clients.

Many companies are marketing data center space and equipment to the wrong audience. Sellers who are serious about recovering value for their assets need to locate potential buyers who are equally serious about this industry and seeking quality assets to build for the future.

We didn't discover telecom yesterday. Founded in 1995, NodeCom has a long-term commitment to the Internet infrastructure sector. Data Center Exchange lists more than 170 facilities around the world. Users can search facilities by city, square footage, fiber providers and numerous other criteria.

The Data Center Equipment Marketplace has helped some of the industry's best-known names recover costs on surplus equipment. including diesel generators, UPS units, HVAC equipment, automatic power transfer switches, and much more.

CarrierHotels.com is the premier industry news and information portal for the data center and colocation industry. It had more than 1.5 million page views in 2002.

These resources are supplemented by our direct-marketing capabilities, which draw upon extensive e-mail and "snail mail" databases of industry decision-makers.